Description
The Apsley Farms Liquid Plant Feed will give an instant boost to those plants that need it the most. It will increase both the yield for vegetables, the number of flowers produced and the overall growth of your plants. Produced as the liquid bi-product from the Anaerobic produce, we are proud to say that it has been certified for Organic Use by the Soil Association.
Order your Apsley Farms Liquid Plant Feed in either 10 litre drums for £30 or a 5 litre container for £20.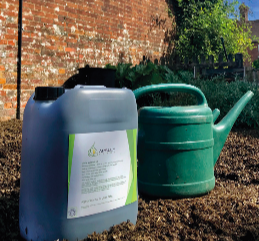 Key Product details:
Contains healthy amounts of Nitrogen, Potassium and Phosphorus and other beneficial trace elements
Soil Association approved for Organic Use
The perfect alternative to animal based plant feed
Provides an instant boost to plant growth
Increases fruit size and yield
Liquid concentrate form
Vegan friendly
pH 8-8.5
How and when is it best to use and apply?
Apply first dosage three weeks after first growth or leaves appear
Best used during late spring continue through to end of season
Dilute to a ratio of 20 parts water, 1 part tonic in a watering can or similar
Feed at soil level trying to avoid getting on the leaves (wash if they get on leaves with water after applying)
A suggested application of once every 10 to 14 days regularly
Store upright and out of direct sunlight