You cannot add "Multi Purpose Top Soil 500 Litre bag" to the cart because the product is out of stock.
Melanie A.
– 2 days ago
Wow! Just love this stuff, so easy to spread and makes the beds look instantly fab! The soil in our garden is dreadful and I'm looking forward to seeing the results. George the delivery driver couldn't have been more helpful and was a delight to deal with
I just wanted to express my appreciation for your driver ( David) who made my delivery on Tuesday morning. He was so very helpful and a real ambassador for your business.  It makes such a difference to deal with a gentleman like him.
Daniel P.
– 2 weeks ago
I'm glad to say they are proofing to be a good company .now having 3 bags and free delivery
Christopher P.
– 2 weeks ago
We've ordered a bag for each of the last two years. It does what they say. Our clay with flint soil definitely needs something, and this does the job. May not need as much this year though.
Katherine C.
– 2 weeks ago
It's a beautiful mulch, delivered by an obliging man who didnt grumble at my difficult to access garden. Highly recommend
Katharine T.
– 2 weeks ago
Shrub and bulb planting in the rain before tucking the whole lot up for winter under an Aspley mulch blanket.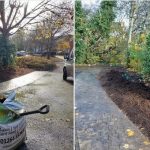 Paul D.
– 2 weeks ago
Ordered mine this morning. Borders and veg did well after adding it last year.
Just place my second order. Having lost my 'mulch provider' (an aged pony kept on deep litter system hemp bedding) a few years ago, hadn't found anything that was doing the job the same. Came across this 'by accident'. Bag arrived up to us in East Anglia with minimum of fuss and having been put in place and found to 'look similar' (high praise indeed) – we are getting more AND taking advantage of the Plant food/Mulch offer. Win Win!!!
I am a happy Apsley Farms (AF) customer. Just placed my 4th order. I tried an experiment in the past 12 months- 2 similar borders in the same garden, one was mulched last Autumn with AF soil improver. One had no mulch applied. No contest as to which performed better this year. And I've recommended AF to colleagues on my RHS Horticulture Course. No hesitation in recommending the soil improver, and liquid fertiliser. Thanks Apsley Farms!
Helen N.
– 3 weeks ago
3 bags delivered to my allotment. Amazing service and fantastic product. It's my 3rd or 4th order.
Christianne I.
– 3 weeks ago
The potatoes were twice the size and beautifully clean. Great products from them. Ordering again…..
John H.
– 4 weeks ago
What's more, at order you can pinpoint the exact point on your property that you want the bag(s) placed – I was out when the bags arrived and when I got back there they were, perfectly positioned.
John H.
– 4 weeks ago
Been using it for 3 years. 2 bags currently on drive being spread around at the moment. Starts as a mulch, ends up as great soil improver on my clay soil at least.
Alison E.
– 1 month ago
Wonderful stuff, I love it and so does my garden.
JWS
– 1 month ago
The 5☆ reviews explain it all,proper job this mulch & a bargain.