£

60.00
per 730 Litre bag (approx)
£50 per bag
- 2 or more bags
typical delivery time - 10 working days
£

75.00
per 730 Litre bag (approx)
£

10.00
–
£

320.00
per approx. 40 Litres Litre bag (approx)
£

100.00
per 500 Litre bag (approx)
£

90.00
Delivery nationwide
by kerbside pallet
Typical delivery within 5 working days
730L Mulch Bag with 5L Plant food of your choice
---
Have you found mushrooms in your mulch?
Visit our FAQ Page to find out why mushrooms in your mulch are a good thing
---
What our customers say
Melanie A.
- 2 days ago
Wow! Just love this stuff, so easy to spread and makes the beds look instantly fab! The soil in our garden is dreadful and I'm looking forward to seeing the results. George the delivery driver couldn't have been more helpful and was a delight to deal with
I just wanted to express my appreciation for your driver ( David) who made my delivery on Tuesday morning. He was so very helpful and a real ambassador for your business.  It makes such a difference to deal with a gentleman like him.
Daniel P.
- 2 weeks ago
I'm glad to say they are proofing to be a good company .now having 3 bags and free delivery
Christopher P.
- 2 weeks ago
We've ordered a bag for each of the last two years. It does what they say. Our clay with flint soil definitely needs something, and this does the job. May not need as much this year though.
Katherine C.
- 2 weeks ago
It's a beautiful mulch, delivered by an obliging man who didnt grumble at my difficult to access garden. Highly recommend
Katharine T.
- 2 weeks ago
Shrub and bulb planting in the rain before tucking the whole lot up for winter under an Aspley mulch blanket.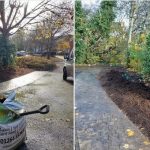 Paul D.
- 2 weeks ago
Ordered mine this morning. Borders and veg did well after adding it last year.
Just place my second order. Having lost my 'mulch provider' (an aged pony kept on deep litter system hemp bedding) a few years ago, hadn't found anything that was doing the job the same. Came across this 'by accident'. Bag arrived up to us in East Anglia with minimum of fuss and having been put in place and found to 'look similar' (high praise indeed) – we are getting more AND taking advantage of the Plant food/Mulch offer. Win Win!!!
I am a happy Apsley Farms (AF) customer. Just placed my 4th order. I tried an experiment in the past 12 months- 2 similar borders in the same garden, one was mulched last Autumn with AF soil improver. One had no mulch applied. No contest as to which performed better this year. And I've recommended AF to colleagues on my RHS Horticulture Course. No hesitation in recommending the soil improver, and liquid fertiliser. Thanks Apsley Farms!
Helen N.
- 3 weeks ago
3 bags delivered to my allotment. Amazing service and fantastic product. It's my 3rd or 4th order.
Shop with confidence
Our Soil Improving Mulch and Natural Plant Food has been approved by the Soil Association for use in organic gardening and farming.

🌱Organic Mulch Soil Improver🌱

Our organic mulch soil improver is here! We personally deliver our dumpy bag full of mulch (730 litres) @ only £50 per bag and we include FREE delivery 🚚 within 30 miles of Andover and it will be dropped off, keeping within the Government advice. Payment can be taken over the phone. Whether you have a small or large garden this organic mulch soil improver will work wonders… Click the 'SHOP NOW' button below to order yourself some mulch soil improver and see why so many of our customers love our mulch…

Posted by Apsley Farms on Tuesday, 3 November 2020
---
The nutritional benefits of Apsley Farms' gardening products
Our garden mulch soil improver and natural plant food contain the top three nutrients to promote healthy plant growth. These nutrients are:
Nitrogen (N) – is needed to form young leaves and shoots and helps promote plant growth
Phosphorus (P) – provides strong roots, root growth and helps with the ripening and yield of fruit.
Potassium (K) – promotes the movement of water, nutrients and carbohydrates in plant tissue. Potassium promotes the enzyme ATP (Adenosine Triphosphate) to regulate photosynthesis
Delivery
Apsley Farms offers gardening products with FREE delivery within 30 miles of our Hampshire-based farm. Includes most areas in Andover, Newbury, Basingstoke, Winchester, Southampton, Salisbury, Reading and subsidised delivery to Bracknell, Camberley, Ascot and Farnborough.
For more information on our delivery service, please visit our delivery page.